2014 FIREARMS SAFETY COURSE
will be held on (5) Tuesday evenings from 7 – 9pm at the Robert Asp School, 910 11th Street North, Moorhead, MN. The course is for ages 11 thru Adults, with a cost of $5.
The course begins on March 11th, with registration from 6:30 to 7:00 pm. A parent or guardian signature is required at registration for minors. If you have any questions, e-mail Harvey Moos at hmoos321@gmail.com (Put "Firearm safety" in the subject box of the email)
Class info:
Class 1 Tuesday, March 11 (Registration 6:30 pm.)
Class 2 Tuesday, March 25
Class 3 Tuesday, April 01
Class 4 Tuesday, April 08
Class 5 Tuesday, April 15 Written Final Test
Class 6 Wednesday, April 16 Shooting/Safety Test
-------------------------------------------------- ***Make up dates in case we have to cancel a class***
Class 5** **Tuesday, April 22 Written Final Test
Class 6** **Wednesday, April 23 Shooting/Safety Test
--------------------------------------------------
**Class 6 meets from 3:00—5:00 pm. At the Moorhead Police Shooting Range.
You MUST CHECK IN with the attendance person before every class or you are absent!
NO food, drink, or candy in the class area!
Dates may change depending on weather and Flood situations!
If Moorhead Schools are closed or called off for the day, then Firearms Safety Class for that night is also cancelled
---
A
blood drive
will be held in Ada on
Thursday, March 13th
from 11:45am to 6pm at Tubby's Tavern. For an appointment, contact Kitty Ellingson at 218-582-3223 or go to www.bloodhero.com, sponsor code: Adamn. The blood drive is sponsored by the American Legion Auxiliary.
---
Knight's of Columbus Council 4690 will be serving a
pancake breakfast
on
Sunday, March 16th
from 9am to 1pm at St Rose of Lima Catholic Church in Hillsboro. Everyone is welcome.
---
A
Hunters Safety class
is scheduled for
March 24 – 29
at Fisher School. It is open to anyone 12 years and older or going to be 12 by hunting season. Contact Todd Sorenson at 701-741-1612 for more information
---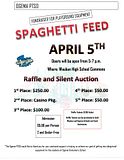 Click thumbnail to see full picture
---
On
Wednesday, April 9th
at 10 am the Fisher community, along with the Fisher High School students, and people from the area will have the unique experience and privilege of hearing from a woman who is both a Holocaust survivor and a witness to History. Marion Blumental Lazan will share a first -hand account of her family's life in Germany from the events preceding Kristallnacht to imprisonment in concentration camps to liberation in April of 1945. Mrs. Lazan was just 11 years old when her family gained its freedom. Come to the Fisher School on Wednesday, April 9th at 10 am to hear guest speaker Marion Blumental Lazan's message of hope, courage,and compassion.
---